Have a positive impact on a child's life
When Illawarra carer Lauraine moved to Australia in 2006, she instantly felt that this was a great place to bring kids up. 
With two adult children, Lauraine and husband Steven knew they wanted to adopt, but somebody suggested they do permanent foster care which could lead to adoption.
"We didn't know this was an option and we didn't know all the different kinds of care that was out there." After adopting eight year old Noah last year, who had been in their care since he was three months old, they met four year old Cara* who boosted their desire to continue to be carers. 
"It's not all black and white…it's colourful. Every child is different, and each child comes from different situations, said Lauraine.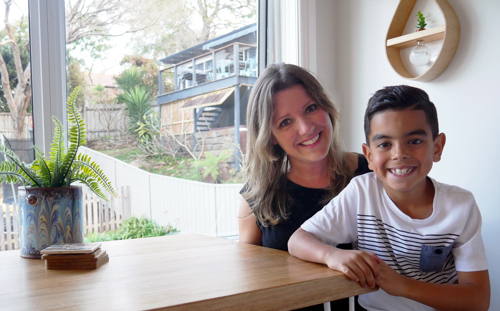 CatholicCare foster carer Lauraine, pictured with her eight-year-old adopted son Noah.
"But what makes me feel good about being a carer is having a positive effect on a young person's life. And to give them a home and stability and it's the love that's in it that matters."
Executive Manager of Children & Youth Services Michelle Ferrara, said "Foster Care week is a wonderful opportunity to acknowledge the invaluable contribution carers make to the lives of children and young people."
CatholicCare is on a mission to find more people who will make great carers and help turn a child's life around via a range of caring options that lead to permanency.
Call us now on 4227 1122 or click here for more information and we will support you every step of the way. *Name Changed